The second-most-populous neighborhood in Chicago, with more than 100,000 residents, Lakeview (sometimes "Lake View"), is also one of the country's most popular for home buyers. It ranks 9th in the country in a 2023 study and ranked No. 3 for best big-city neighborhoods to live in by Money magazine. As the name implies, Lakeview is a neighborhood that lies right on the coast of Lake Michigan and provides spectacular views of the city and the water from its many high-rise apartments. Offering a dense urban feel as well as coastal access, Lakeview is one of the premier places to live in Illinois. Lakeview is a fun community for everyone. With so much to offer – from the condos along the lake to posh single-family homes to the west and everything in between – Lakeview is a large and diverse option for so many Chicagoans and Chicagoans-to-be.
This sprawling neighborhood is bordered by Lake Michigan to the east, Diversey Parkway to the south, Western Avenue to the west, and Irving Park Road and Montrose Avenue (west of Graceland Cemetery) to the north, and it is the heart of the Windy City for so many.
Lakeview includes Wrigley Field, the home of the Chicago Cubs. A large theater district. Large public parks with community activity offerings for all. And it's among the most conveniently located neighborhoods. It can be quite traffic-congested at times, especially on the 81 days the north-siders are playing at home, but locals don't mind at all. Parking can be a challenge due to Lakeview's vibrancy, but public transportation abounds and it's easy to navigate. All in all, Lakeview is one of the liveliest neighborhoods in the world, and also one of the most enjoyable to live in.
Lakeview Sub-Neighborhoods
Lakeview has a number of "sub-neighborhoods", including:
East Lakeview
East Lakeview runs along the lake and includes a number of townhomes and large condos, apartment high-rises, and many loft buildings. There are also many large single family homes, some of them historic and stately. East Lakeview's central business corridors are Broadway St, Halsted St, and Clark St. It runs directly along iconic Lake Shore Dr and the Chicago Lakefront, making it a haven for health-conscious Chicagoans. The Alta Vista Terrace District is a small one-block long historic street of 40 homes that was built in 1904 and inspired by the character of London row houses.
Wrigleyville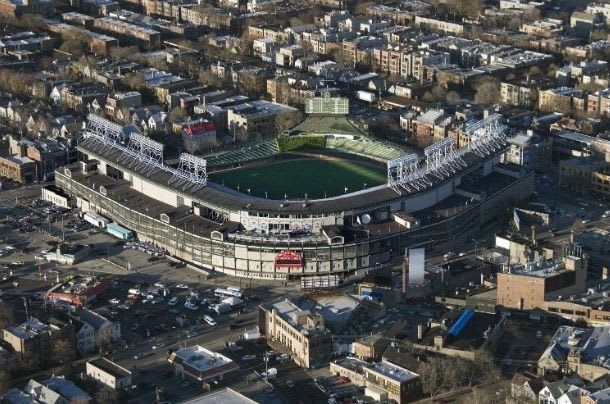 Wrigleyville is simply the area around Wrigley Field, the home of Major League Baseball's Chicago Cubs. Built in 1914, it is the second-oldest ballpark in the country, and because of this it is shoe-horned into the neighborhood without many of the surrounding large parking lots you find at so many other stadiums. Instead, the stadium is surrounded by bars, restaurants, and a real neighborhood – a very fun, but sometimes congested and noisy neighborhood. Recent re-development projects have integrated the stadium even more into the neighborhood of many low- and mid-rise brick buildings, adding new homes, shopping centers, and entertainment venues. Wrigleyville is a smaller neighborhood but the presence of the Chicago Cubs has turned this area into a beautifully updated community with new and old businesses alike that are sure to allow residents to live life to its fullest. Wrigleyville offers a dense-urban feel, a great community with a diverse population, and plenty of restaurants, bars, coffee shops, and attractions. As one of the best neighborhoods to live in Chicago, life in Wrigleyville caters to everyone, with access to great parochial, public, and private schools, plenty of parks for sports, recreation, or relaxation, and great attractions for kids (Wrigley Field, Gallagher Way, etc.).
West Lakeview
West Lakeview, perhaps the most traditional neighborhood within greater Lakeview, has a quieter neighborhood feel that still allows great access to greater Lakeview's action. And while there are some expensive single-family homes, there are also more affordable condo options. West Lakeview includes the Southport and Roscoe Village areas.
Southport Corridor
Southport Corridor is centered around the lively shopping district along Southport Avenue in Lakeview between Irving Park Rd and Belmont Ave. Southport gets its name aptly from the thriving commercial area located up and down Southport Avenue. An urban neighborhood, Southport offers anything one could want from "city living." Southport is always hopping with lively people, dogs, shoppers, and tourists. Bordering Wrigleyville, Southport gets its fair share of baseball action during Chicago summers. With quick and easy accessibility via CTA brown line, Southport has attracted an incredible reputation as a place to visit and to live. Southport residents are always just moments away from a plethora of dining, shopping, and nightlife options. Fortunately, Southport residents do not have to leave their neighborhood due to a wide selection of restaurants, bars, and shopping within Southport itself. Day or night, the energy of Southport can be felt.
Roscoe Village
Roscoe Village is roughly bounded by Addison Street to the north, Belmont Avenue to the south, Ravenswood Avenue to the east and the Chicago River to the west. It's centered around Roscoe Street. Its "village within the city" feel lends its informal name and it features an eclectic mix of boutiques, taverns, and eateries.Single family homes and parks dominate the neighborhood, but there are also plenty of condos, townhomes, and apartments. There are great school options, and since the neighborhood sits a little further west of the lakefront, it offers closer proximity to the Kennedy and Edens Expressways for commuters and O'Hare Airport access.
Lakeview Real Estate
Lakeview in late 2023 is considered a seller's market. Like much of Chicago and the country there are more buyers than sellers despite recent spikes in interest rates.
Homes in Lakeview are selling within 34 days on average this year. While it's important to know that average days on market or selling prices, these averages are not always indicative of any one client's individual situation. You only need to sell YOUR home. You only need to buy ONE home.
So if you're planning to sell a home in Lakeview right now, you still need to know what particular features will attract the right buyers for your location in Lakeview. A seller's market doesn't necessarily mean it's "easy" to sell for top dollar. It means you have an opportunity to maximize your selling tactics to capitalize on the low inventory. For a true partner to walk you through all the right moves so you don't leave any money on the table when you sell, talk to Matt Shrake.
Similarly, the seller's market in Lakeview doesn't mean you can't find the type of home in the area you're looking for. It just means you might want to drill down further on what you really need from your home and your neighborhood. Matt Shrake can help find you more options to consider than you otherwise might have access to.
Lakeview Things To Do
Restaurants & Taverns
Lakeview also has an endless variety of restaurants. Everything from classic American (Tied House, Chicago Diner) and Italian (Frasca, Coda di Volpe) to cuisine's from around the world, including the only Kurdish restaurant (Gundis Kurdish Kitchen) in the Midwest. Panes Bread Cafe, DMK Burger Bar, and FishBar serve Central Lakeview's busy Advocate Illinois Masonic Hosptal's campus (the large north side trauma center).
Wrigleyville has many dining options for game night or any night (Smoke Daddy, The Roost Carolina Kitchen, Big Star, West Town Bakery and Tap, Lucky's Sandwich Co., Lark, Lowcountry, etc.) as well as drinks before or after the Cubbies hopefully fly the "W" flag (Sluggers, Rizzo's Bar and Inn, Lucky Strike Social, Deuces, The Cubby Bear, Murphy's, Vines on Clark, GMan Tavern, etc.).
Other great restaurants include: Dear Margaret and its acclaimed French-Canadian cuisine, Drew's on Halsted with American bistro fare and a popular patio, Chilam Balam for Mexican shared plates, and BITES Asian Kitchen, and many more.
Lakeview's most enjoyable tradition is getting together with neighbors and friends at its many taverns. Will's Northwoods Inn, Side Street Saloon, Vaughan's Pub, L&L Tavern, Barcocina, George Street Pub, Farm Bar, Duffy's Tavern & Grille, Kirkwood, and Ten Cat are all great places to settle the topics of the day over a few cold ones.
Outdoors in Lakeview
Lakeview's east border along the lake is made up of plenty of greenery sitting just north of Lincoln Park. Marovitz Golf Course is along the water. And golfers can also head to the Diversey Driving Range, which also includes a miniature golf course. The Diversey Tennis Center features Har-Tru clay courts.
Home to several yacht clubs and offering abundant boating and sailing lessons, Belmont Harbor is a popular dock spot for boat owners, and a great place to learn how to enjoy life on the water..
Or you can simply visit, work out, sunbathe or picnic along the scenic Lakefront Trail.
Belmont Theater District
Chicago's largest theater district features more than 20 theaters and 100+ shows per week.
For a complete listing of stages and shows: Belmont Theater District
Great Education and Fun For All
Lakeview offers a great variety of top-rated parochial, public, and private schools, plenty of parks for sports, recreation, or relaxation, and great attractions for everyone.
Some popular schooling options include: Alphonsus Academy & Center for the Arts, Harriet Tubman, Hawthorne Scholastic, German International School, Bernard Zell Anshe Emet Day School, Blaine, Chicago City Day, Our Lady of Mt. Carmel, Lake View High, and many others.
Its variety of small playlots and larger full-amenity parks include Weisman Playlot Park, Hawthorne School Park, Hamlin Park, Gill Park, and Sheil Park. This is a small sampling of its many beautiful Chicago Park District sites, all offering wide-ranging programming. Hamlin Park's boxing program even boasts of many Olympians in its alumni ranks.
Wrigley Field and the lakefront are clear favorites for attractions. Marovitz golf course along Lake Michigan is one of many Chicago Park District golf course gems, and you can see locals heading to Marovitz or DIversey Driving Range with their golf bag slung over their shoulder. Children's and adult sports leagues abound every night April through November, and the action moves indoors in the colder months.
Master Lakeview with Matt
Find better options in this "best" of neighborhood, contact Matt.
Target the best buyers for your Lakeview home, contact Matt.
He's a 2023 Real Trends Award Winner as one of the Top 1.5 Percent of Real Estate Agents Nationwide and a Certified Luxury Home Marketing Specialist. In 2022, Matt earned Coldwell Banker's International President's Elite, reserved for the top 5% of all their real estate brokers globally.
You can contact him at [email protected] or 773-294-2667.
For more tips like this, and for additional information about Chicago real estate, sign up for his newsletter: SUBSCRIBE